Welcome to the Newton Gallery!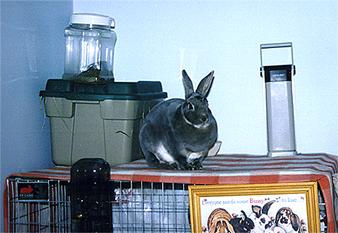 Newton's abode (just the top of it, really).
Note the deluxe scent-hiding container of pellets atop the Rubbermaid hay bin...
her water bottle with floating rubber ducky water-level indicator...
and her personal favourite: the artwork which reads "Everyone needs someBUNNY to love"
---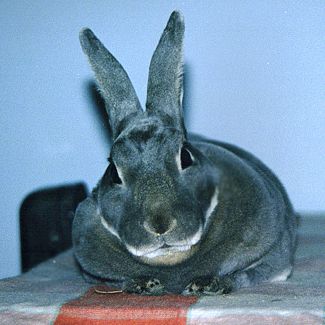 Newton falling asleep, all tilty, on the top of her cage.
She only tilts like this when she's on her cage.
She's weird.
---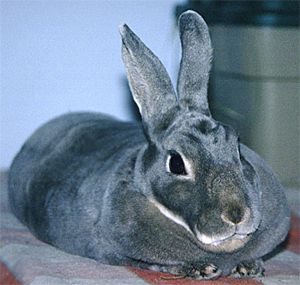 A BIG meatloaf bunny.
Very oval.
---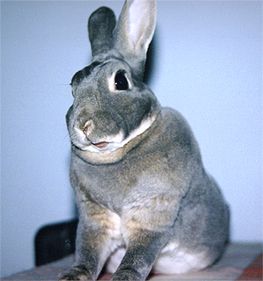 Waking up now. Look at her little pink mouth! She's so cute!
---

Newton shows her extreme displeasure at the indignity
of being dressed in a pink Starbucks Barista Bunny apron.

Notice the aggressive posture of the back toes -- claws extended...
ready to scratch whatever she can reach as punishment for my silliness!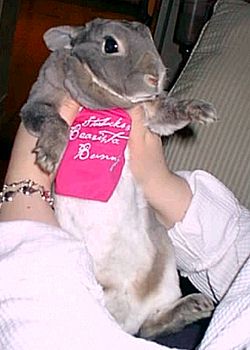 Don't try this at home. Or else.
---
Newton takes a firm stance against junk mail.
---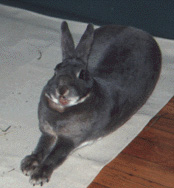 Possibly the cutest sight in the universe: a bunny in mid-yawn!
---

Hey! Put down that camera and rub my head!
---

There's this one piece of hay at the bottom of the dish
and it's WAY better than all the other pieces of hay.
I have to get that exact piece! Get out of my way!
---

We call this the Semi-Meatloaf position.
She's got the most delicate little legs and a soft white tummy.
---

A tasty branch is a bribe in a desperate attempt to get Newton
to hold still and say cheese.
Gives you a good peek at her lovely face
and you can almost see her long black eyelashes!
---

Newton in the great outdoors (okay, so it's the backyard).
Someone get her a pair of bun-sized Wayfarers!
---

Back to Newton's page

---

Last modified: January 7, 2000
Images protected by copyright - DO NOT STEAL.
(c) 1998-2003 marblehead