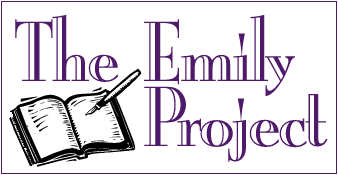 Finally, we have a face and a name
to go with the words she wrote.
Are you ready to see her?

Okay, then! Scroll down...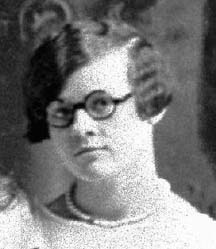 Irma Horton, 1926.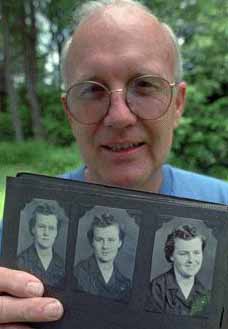 This is Paul Horton, Irma's nephew, holding pictures of his aunt.
He's mentioned in the February 20th entry as "the cutest fellow".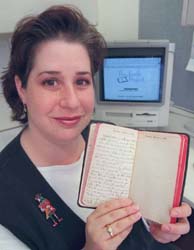 And this is the photo they took of me for the Associated Press news story
that resulted in the discovery of Emily (oops, I mean Irma!).
The diary is opened to the entry for March 6th.
Photos courtesy the Associated Press
---

Epilogue

In October of 1997, we finally returned to Vermont and we wanted to put flowers on Irma's grave.

We went to the largest cemetary in Chester, where the offices of the Historical Society are located, and we found two nice gentlemen who suggested we visit the Town Hall and talk to the Town Clerk who knows everyone.

When we arrived at Chester Town Hall, it was pouring rain. The Clerk directed us to the town Graveskeeper, who just happened to be in the offices when we arrived. He knew immediately who we were talking about, and offered to take us directly to her gravesite. It seems that Chester has many cemetaries and we would never find her on our own. So we accepted his kind offer, even though it meant we wouldn't have time to get flowers for Irma. We drove around through the centre of town and then veered off to take a road up a hill. This was one of the newer cemetaries in Chester. The rain was now a soft mist. We were led to a large stone facing a wall of trees. I kept looking for "Horton", forgetting that Irma would be buried with her husband, whose name was "Rowe". In the picture at left, Irma's grave is the large one in the centre of the picture. This view is from the back.

The man led us around to the front of Irma's stone...and finally we saw her name. And someone had already visited and left a pot of pink geraniums there for her. She had been buried more than a year earlier, but her date of death still was not carved into the stone.

After our visit, the graveskeeper suggested we visit the large cemetary in the centre of town again. He said that Irma's ancestors were buried there. We believe this stone is the one he was referring to. It reads "In memory of Mrs. Alice Horton, wife of Joseph Horton who died Oct --th, 1799. " He told us the Horton family has a long and distinguished history in Chester.
Last modified: February 26, 1998
The Emily Project © 1995-2001 Marblehead Publishing Co.