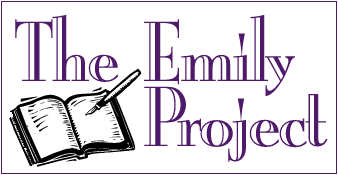 ---
Introduction
The Life of a Young Woman in 1932
On September 30, 1995, we found a small book on a table at a flea market just outside Waterbury, Vermont. It's a thick book, bound in black leather with the words "Daily Reminder" stamped in gold on the front cover. Inside, there's a page allotted for each day and some of them are written upon in a quirky irregular script. For 80 cents, we took it away with us and began to read. As we did, we found ourselves wondering more about this young woman. And by the time we got to her entry for March 6th, she had become real to us. For the purposes of this project, we decided to call her Emily.
Fewer than 10% of the pages are written upon, but that 10% was enough to pique our curiosity. Who was she? What was her life like? What was going on in her life during the time she didn't write? There are clues, mostly in place names and in the names of the people she spends time with, but we hope you'll read on.
---
We have found Emily! Click the PRESS or PHOTO buttons to get the full story.
---
Amy & Phil R. Singer