My Featherweight
*as yet unnamed*, my 2nd Featherweight

Born in Elizabeth, New Jersey.
Birthdate: November 22, 1946
Serial AG882162
Scrolled faceplate
Scrolled style gold decals
Plain feed dog cover plate
As-found leather-handled case with all attachments and key!

I have yet to sew on this one...it needs a cleaning and lubing first!
---
Looking for the Featherweight for sale? You're too late!
She lives New Jersey with JoAnn (the quilter) now.
Bye bye, Mary Margaret! I'll miss you!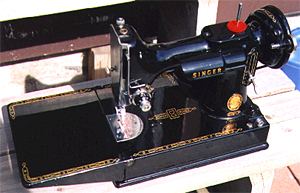 looking for more information about vintage sewing machines?
these books might help!

all contents © 2001 marblehead